"Ancient Muse"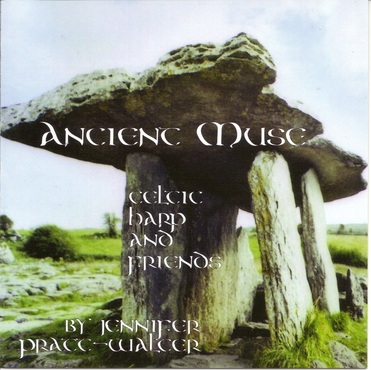 "Step through a sonorous portal to the past with Celtic Harp and Friends. Experience song from Ancient Greece to the Middle Ages, from the Nordic lands to the green British Isles to the shores of early America, linking distant times to a new resonance of unity and understanding through song. On this album, Celtic harp, pennywhistle, recorders, piano, and viola blend in a delightful and haunting confluence of traditional and original sources. Like its earlier sister album, the popular "Ancient Realms," "Ancient Muse" will lead you a magical journey that only such music can take you on...


Jennifer Pratt-Walter has been discovering, creating, and sharing beautiful and amazing music on her Celtic harp since 1984. She performs in the duo Celtic Muse with Valerie Blessley. Both those artists are multi-instrumental, performing on many woodwinds, percussion, and other folk instruments in addition to the harp. Jennifer has won prizes and acclaim in the Folk harp community, including Pacific NW Scottish harp champion several times. She runs a music publishing company Lyrica Press, which features fine harp arrangements, and is an avid composer and arranger. She teaches, records, and performs. Enjoy her first solo CD "Ancient Realms," and explore the recordings of Celtic Muse on "Wind and Wood" and Merry and Bright."
Listen to Jennifer on iTunes Today!