"Bamboo" By Craig Russell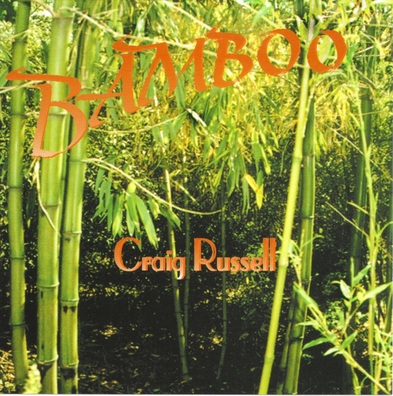 _
The new compact disk album
, "Bamboo" was recorded by Craig Russell soon after being inspired by the sounds of cane and bamboo flutes. His heart and soul immediately attached themselves to the free and expressive quality of these instruments. At the same time, he was also excited with Brazilian music with its rich chordal harmonies complex rhythms and beautiful melodic lines. While bamboo flutes were mostly associated with the music of the middle and far east, Craig found that when combined with jazz chords and high energy rhythms they made a wild and free sound. Listeners who have heard the album, find that it takes them out of the city and into the depths of the jungle. Craig was exposed to many styles of music at an early age. His father owned a radio station and brought home many interesting records to enjoy.
Craig's favorites were, African, Asian and South American. at the age of nine, he began many years of classical piano playing and private study. Eventually he learned to play rock, jazz, country and some ethnic styles. After many years of playing bars, lounges and in various groups, the musical path led Craig into the recording studio, where he became well versed playing everything from keyboards and drum parts to wind instruments and hand percussion for local and regional artists. Since birth, Craig has also been visually impaired, but had useful vision until he was eighteen. Because of degenerative retinal disease, Craig is now only able to see light and dark. " I thank God for the gift of music, which has become my vision and color and all the wonderful people I have come to know through it.
Listen to Craig on iTunes Today!