"Crossroads"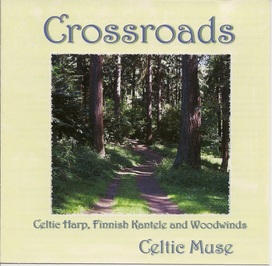 Jennifer Pratt-Walter and Valerie Blessley of Vancouver, WA, communicate their reverence for music with hands and breath, animating a broad range of song in ancient and Celtic traditions.

They have performed together as CELTIC MUSE since 1996 and have been privileged to play in a variety of settings throughout the Northwest, including The Christmas Revels in 1998 and 1999.

They released their first collaborative album "Wind and Wood: A Sylvan Dance" in 1998 and completed a winter holiday-theme recording in 2000 entitled "Merry and Bright." The artists perform a broad repertoire of Celtic, classical, early, contemporary and original music. Jennifer also released solo Celtic harp albums, "Ancient Realms" in 1998 and "Ancient Muse" in 2005. Val recorded a solo CD, "Northern Light" in 2005.

Celtic Muse just released their third collaborative album, "Crossroads", which features Celtic and Scandinavian traditional music on harps, kanteles and unique woodwinds.

Celtic Muse was the 1999 winning ensemble in the first- ever Pacific NW harp competition. In addition, Jennifer took first place in the "Professional" solo category in 1999 and 2001, while Valerie placed second in 1999. Jennifer also placed first in the 2000 Sacred Oak Grove Eisteddfod for original music, Portland, OR. She volunteers her playing skills in a variety of healthcare settings and is a certified Music Thanatologist. With her company Lyrica Press, Jennifer has published harp tutorials and fine sheet music. Valerie is a high school special-ed, English, and art instructor. She was a finalist in the Finlandia Foundation of the Year. She published a collection of harp tunes entitled "Songs I Can Play!" in 1998. Valerie also belongs to a Finnish kantele ensemble Livakat and creates unique rune pottery. In addition to harp, Valerie play a variety of woodwinds and both large and small kanteles, the Finnish national instrument.

Valerie and Jennifer studied with classical harpist Marion Fouse of Portland, OR. They enjoy composing, arranging and traditional Celtic style. Beautiful Renaissance and ancient Celtic costume enliven performances. They love sharing interesting anecdotes about their music and instruments and encourage those who are so drawn to come experience 'hands-on' the magic of the harp. Celtic Muse is available for your special occasion and both Jennifer and Valerie are available for private harp lessons.







Listen to Jennifer & Valerie on iTunes Today!